TM-1306-1 Waterproof Micro Switch
■ TM1-1 uses the environment, the shape, the installation procedure, and same as TMAZTZ-TM micro switch.
■ Degree of protection reaches IP67 (except for terminal part).
■ High switch on and off capacity(15A).
■ High accuracy.
■ Wide range of operation speed.
■ Contact Form:


Product List
Technical Parameters
Micro Switch Waterproof Introduction
Waterproof micro switch is a kind of waterproof switch with tiny contact interval and quick-action mechanism, contact structure of switching action with specified stroke and specified force, covered with enclosure, and its external drive lever.
Features of the waterproof micro switches
This micro switch has a waterproof rating of IP67, which is a high waterproof performance, and the switch body is miniature in size, light in weight, good in feel and long in life. Besides, there are various choices of button shapes and heights (custom micro switch can be made according to customers' requirements), and it is easy to install.
Application of micro switch waterproof
Micro switch waterproof is widely used in various cold, wet, dusty and various harsh environments. Such as automobile, spraying equipment, etc.
Technical Ratings

Rated voltage
Noninductive Load (A)
Inductive Load (A)
Inrush Current(A)
Resistance Load
Lamp Load
Inductive Load (A)
Motor Load
NC
NO
NC
NO
NC
NO
NC
NO
NC
NO
125VAC
15
3
1.5
15
5
2.5
30max.
15max.
250VAC
15
2.5
1.25
15
3
1.5
500VAC
3
1.5
0.75
2.5
1.5
0.75
8VDC
15
3
1.5
15
5
2.5
14VDC
15
3
1.5
10
5
2.5
30VDC
6(2)
3
1.5
5
5
2.5
125VDC
0.4
0.4
0.4
0.05
0.05
0.05
250VDC
0.2
0.2
0.2
0.03
0.03
0.03
We can make different limit switches and microswitches according to your needs, contact us!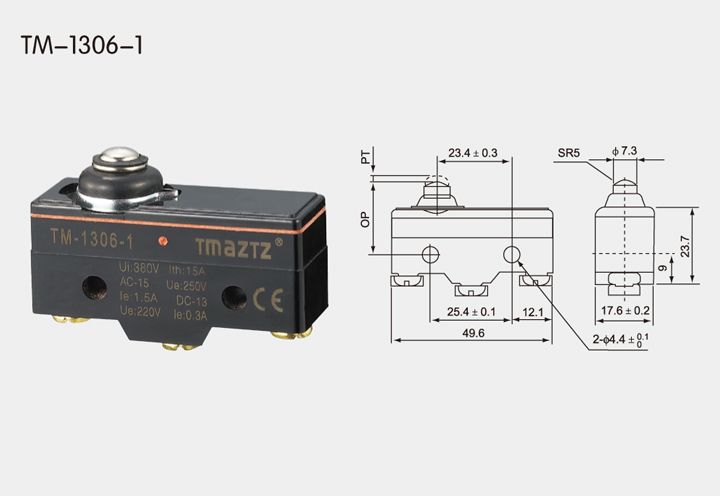 Characteristics
Operation speed
0.01mm-1m/sec
Operating frequency
Mechanical: 240 operations/min. Electical: 20 operations/min.
Contact resistance
15mΩ max. (initial value)
Insulation resistance
100mΩ min. (at 500VDC)
Dielectric strength
1000VAC, 50/60 Hz for 1 minute between terminals of the same polarity
1500VAC, 50/60 Hz for 1 minute between current-carrying and non- current-carrying metal parts
1500VAC, 50/60 Hz for 1 minute between each terminal and ground
Vibration
10-55Hz,1.5mm double amplitude
Shock
Mechanical durable: 1, 000m/Sec2 (about 100G'S)
Malfunction: 300m/Sec2 (about 30G'S)
Ambient temperature
General purpose type: -25℃ to +80℃, Sealed type: -15℃ to +80℃
Humidity
General purpose type: 85% RH max., Sealed type: 95% RH max.
Weight
About 22 to 58g
Operating Characteristics
| | | | | | | | | |
| --- | --- | --- | --- | --- | --- | --- | --- | --- |
| Operating Characteristics | Model | TM-1701 | TM-1702 | TM-1703 | TM-1704 | TM-1705 | TM-1724 | TM-1743 |
| Operating force | OF (Max) | 0.69N | 1.57N | 1.27N | 1.57N | 58.8mN | 58.8mN | 1.67N |
| Release force | RF (Min) | 0.14N | 0.27N | 0.21N | 0.41N | 4.90mN | 4.90mN | 0.41N |
| Pre-travel | PT (Max) | 5.6mm | 2mm | 4mm | 2.4mm | 8.3mm | 19.8mm | 2.4mm |
| Over-travel | OT (Min) | 1.27mm | 1mm | 1.6mm | 0.5mm | 5.6mm | 10mm | 0.51mm |
| Movement differential | MD (Max) | 28.2mm | 24.8mm | 36.5mm | 32.5mm | 0.65mm | 2mm | 47.5mm |
| Operational position | OP | 19±0.8mm | 19±0.8mm | 30.2±0.8mm | 30.2±0.4mm | 19±1mm | 19.8±1.6mm | 41.3±0.8mm |
| | | | | | | | | |
| --- | --- | --- | --- | --- | --- | --- | --- | --- |
| Operating Characteristics | Model | TM-1300 | TM-1301 | TM-1303 | TM-1305 | TM-1306 | TM-1307 | TM-1308/1309 |
| Operating force | OF(Max) | 2.45~3.43N | 1.38N | 1.38N | 2.45~3.43N | 2.45~3.43N | 2.45~3.43N | 2.45~3.43N |
| Release force | RF(Min) | 1.12N | 0.14N | 0.14N | 1.12N | 1.12N | 1.12N | 1.12N |
| Pre-travel | PT(Max) | 0.4mm | 1.6mm | 1.6mm | 0.4mm | 0.4mm | 0.4mm | 0.4mm |
| Over-travel | OT(Min) | 0.13mm | 1.3mm | 1.3mm | 1.6mm | 1.6mm | 5.5mm | 3.58mm |
| Movement differential | MD(Max) | 0.05mm | 20.6mm | 31.8mm | 0.05mm | 0.05mm | 0.05mm | 0.05mm |
| Operational position | OP | 15.9±0.4mm | 17.4±0.8mm | 28.6±0.8mm | 28.±0.8mm | 21.5±0.5(mm) | 21.8+0.8(mm) | 33.±1mm(5)mm |