TM-1703 brass& nylon roller long lever Micro Switch
■ Ui:380V Ith:15A, working with high repeat accuracy.
■ A wide range of variations in contact form for your selection: basic, split-contact, maintained-contact, and adjustable contact gap types.
■ Widely working in the situation of elevator control, and Automatic park equipment
■ A series of molded terminal-type models incorporating safety terminal protective cover is available.
■ Brass or Nylon roller optional
■ Contact Form:


Product List
Technical Parameters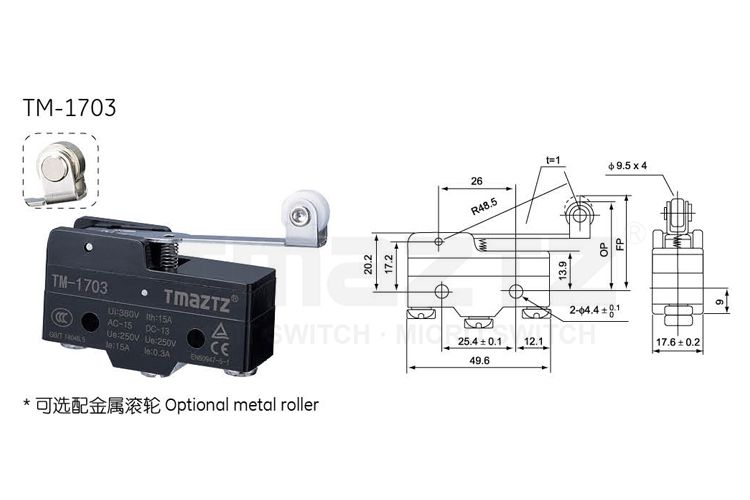 Ratings
Rated voltage
Noninductive Load (A)
Inductive Load (A)
Inrush Current(A)
Resistance Load
Lamp Load
Inductive Load (A)
Motor Load
NC
NO
NC
NO
NC
NO
NC
NO
NC
NO
125VAC
15
3
1.5
15
5
2.5
30max.
15max.
250VAC
15
2.5
1.25
15
3
1.5
500VAC
3
1.5
0.75
2.5
1.5
0.75
8VDC
15
3
1.5
15
5
2.5
14VDC
15
3
1.5
10
5
2.5
30VDC
6(2)
3
1.5
5
5
2.5
125VDC
0.4
0.4
0.4
0.05
0.05
0.05
250VDC
0.2
0.2
0.2
0.03
0.03
0.03
Characteristics
Operation speed
0.01mm-1m/sec
Operating frequency
Electical: 20 operations/min.
Contact resistance
15mΩ max. (initial value)
Insulation resistance
100MΩ min. (at 500VDC)
Dielectric strength
1000VAC, 50/60 Hz for 1 minute between terminals of the same polarity
1500VAC, 50/60 Hz for 1 minute between current-carrying and non- current-carrying metal parts
1500VAC, 50/60 Hz for 1 minute between each terminal and ground
Vibration
10-55Hz,1.5mm double amplitude
Shock
Mechanical durable: 1, 000m/Sec2 (about 100G'S)
Malfunction: 300m/Sec2 (about 30G'S)
Ambient temperature
-15℃ to +80℃
Humidity
General purpose type: 35-85% RH ., Sealed type: 35-95% RH max.
Weight
About 22 to 58g
Electrical life
Above 500000
Operating Characteristics
| | | | | | | | | |
| --- | --- | --- | --- | --- | --- | --- | --- | --- |
| Operating Characteristics | Model | TM-1701 | TM-1702 | TM-1703 | TM-1704 | TM-1705 | TM-1724 | TM-1743 |
| Operating force | OF (Max) | 0.69N | 1.57N | 1.27N | 1.57N | 58.8mN | 58.8mN | 1.67N |
| Release force | RF (Min) | 0.14N | 0.27N | 0.21N | 0.41N | 4.90mN | 4.90mN | 0.41N |
| Pre-travel | PT (Max) | 5.6mm | 2mm | 4mm | 2.4mm | 8.3mm | 19.8mm | 2.4mm |
| Over-travel | OT (Min) | 1.27mm | 1mm | 1.6mm | 0.5mm | 5.6mm | 10mm | 0.51mm |
| Movement differential | MD (Max) | 28.2mm | 24.8mm | 36.5mm | 32.5mm | 0.65mm | 2mm | 47.5mm |
| Operational position | OP | 19±0.8mm | 19±0.8mm | 30.2±0.8mm | 30.2±0.4mm | 19±1mm | 19.8±1.6mm | 41.3±0.8mm |
| | | | | | | | | |
| --- | --- | --- | --- | --- | --- | --- | --- | --- |
| Operating Characteristics | Model | TM-1300 | TM-1301 | TM-1303 | TM-1305 | TM-1306 | TM-1307 | TM-1308/1309 |
| Operating force | OF(Max) | 2.45~3.43N | 1.38N | 1.38N | 2.45~3.43N | 2.45~3.43N | 2.45~3.43N | 2.45~3.43N |
| Release force | RF(Min) | 1.12N | 0.14N | 0.14N | 1.12N | 1.12N | 1.12N | 1.12N |
| Pre-travel | PT(Max) | 0.4mm | 1.6mm | 1.6mm | 0.4mm | 0.4mm | 0.4mm | 0.4mm |
| Over-travel | OT(Min) | 0.13mm | 1.3mm | 1.3mm | 1.6mm | 1.6mm | 5.5mm | 3.58mm |
| Movement differential | MD(Max) | 0.05mm | 20.6mm | 31.8mm | 0.05mm | 0.05mm | 0.05mm | 0.05mm |
| Operational position | OP | 15.9±0.4mm | 17.4±0.8mm | 28.6±0.8mm | 28.±0.8mm | 21.5±0.5(mm) | 21.8+0.8(mm) | 33.±1mm(5)mm |